COLONEL DANIEL W. STONEDEPUTY DIRECTOR, COE-DAT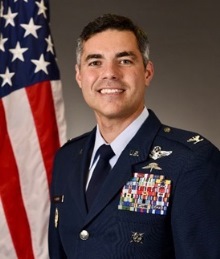 Col Daniel W. Stone currently serves as the Deputy Director, NATO Centre of Excellence Defence Against Terrorism in Ankara, Turkey. Col Stone earned his commission from the United States Air Force Officer Training School in 1995. He has served in a variety of operations and staff positions throughout his career. Col Stone began his career as a computer communications officer, where he was responsible for Air Mobility Command and Control systems, daily operations of 5AF network systems, and supported Air Operations Center training and testing. As a KC-135 pilot, Col Stone flew numerous operational missions and served as Flight Commander, Assistant Operations Officer, and Operations Officer in numerous squadrons both in garrison and deployed. Col Stone was assigned as a foreign military advisor in the Chairman of the Joint Chiefs of Staff Afghanistan-Pakistan (AFPAK) Hands program and led COMISAF's Advisory and Assistance Team as Deputy Director for a seven nation multi-national organization, in five geographically separated locations, tasked with observing and reporting on international efforts to partner with, develop, and sustain the Afghan security transition.
Additionally, Col Stone managed all aspects of the Air Force AFPAK Hand program to include personnel training, Headquarters Air Force policy development, and strategy and concept development. Col Stone previously served as the Deputy Commander of Hamid Karzai International Airport (HKIA), Kabul, Afghanistan. As Deputy Commander, he served as the lead integrator of the Force Protection Group, Air Operations Group, and Base Support Group functions to defend, operate, and support HKIA and the NATO compound located on North HKIA. Additionally, he oversaw the training, advising, and assisting of Afghan personnel in airfield operations and force protection duties at HKIA.
EDUCATION
1994 Bachelor of Arts Degree, History, Auburn University at Auburn, AL
1998 Master of Arts, Computer Resource Management, Webster University, IL, Distinguished Graduate
2000 Squadron Officer's School, Maxwell AFB at Montgomery, AL
2006 Air Command and Staff College (correspondence)
2012 Air War College (correspondence)
ASSIGNMENTS
September 1995 Chief, Command and Control Systems, Air Mobility Command Computer System Squadron, Scott AFB, IL
December 1998 Chief, Network Systems 605 Air Communications Flight, Yokota AB, Japan
December 2001 Flight Commander, Plans and Programs, 505th Systems Squadron, Hurlburt Field, FL
August 2002 Student, Undergraduate Pilot Training, Columbus AFB, MS
April 2004 Chief, Special Projects, 351st Air Refueling Squadron, RAF Mildenhall, England
March 2005 Flight Commander, 351st Air Refueling Squadron, RAF Mildenhall, England
April 2006 Tactics and Plans Flight Commander, 100th Operations Support Squadron, RAF Mildenhall, England
June 2007 Assistant Director of Operations, 100th Operations Support Squadron, RAF Mildenhall, England
April 2008 Executive Officer to 3AF/CV, 3AF RAF, Mildenhall, England
July 2009 Assistant Director of Operations, 350th Air Refueling Squadron, McConnell AFB, KS
October 2010 Director of Operations, 350th Air Refueling Squadron, McConnell AFB, KS
June 2011 Director of Operations, 64th Air Refueling Squadron, Pease ANGB, NH
October 2013 Deputy Director COMISAF's Advisory and Assistance Team, HQ ISAF, Kabul Afghanistan
January 2015 Chief AFPAK Hands Program, HAF Air Advising Branch, Pentagon, VA
February 2017 Deputy Commander of Hamid Karzai International Airport, Kabul, Afghanistan
May 2018 Deputy Director NATO Center of Excellence Defence Against Terrorism, Ankara, Turkey
FLIGHT INFORMATION
Rating: Senior Pilot
Flight Hours: 2531
Combat Hours: 856
Aircraft flown: KC-135R, T-1, and T-37
MAJOR AWARDS AND DECORATIONS
Legion of Merit Medal
Bronze Star Medal
Air Force Meritorious Service Medal with 5 oak leaf clusters
Air Medal with five oak leaf clusters
Aerial Achievement Medal
Air Force Commendation Medal with one oak leaf cluster
Air Force Achievement Medal
Combat Action Badge
Officer Training School Honor Graduate 1995
Basic Communications Officer Training Distinguished Graduate 1996
5AF Communications and Information Professional of the year 1999 and 2000
605 Air Operations Group Company Grade Officer of the Year 2000
Specialized Undergraduate Pilot Training Military Training Award Sep 2004
USAFE Brigadier General Ross Hoyt Award for the most outstanding air refueling crew 2006
EFFECTIVE DATES OF PROMOTION
Second Lieutenant August 11, 1995
First Lieutenant August 11, 1997
Captain August 11, 1999
Major January 1, 2006
Lieutenant Colonel October 1, 2010
Colonel January 1, 2017