COLONEL JEREMIAH R. MONKDEPUTY DIRECTOR, COE-DAT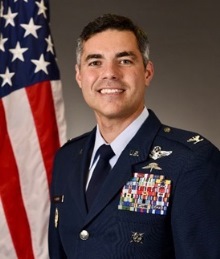 Col Jeremiah Monk currently serves as the Deputy Director, NATO Centre of Excellence Defence Against Terrorism in Ankara, Turkey. Col Monk earned his commission from the United States Air Force Academy in 1995. He is a master navigator with more than 3300 flying hours, to include over 1400 hours in the MC-130H Combat Talon II. Col Monk began his career in attendance of Joint Undergraduate Navigator Training at Naval Air Station Pensacola, FL and Randolph AFB, TX. Upon graduation in 1997, he was assigned to fly the C-130E with the 61st Airlift Squadron, Little Rock AFB, AR, where he deployed in support of combat operations in the Balkans and Southwest Asia. In 2001, Col Monk was assigned to fly the MC-130H with the 15th Special Operations Squadron, Hurlburt Field, FL. He deployed in support of combat operations in Iraq, Afghanistan and Colombia, and served as Chief, 16th Operations Group MC-130H Standardization Evaluation Branch. Col Monk was assigned to Headquarters Nineteenth Air Force, Randolph AFB, TX in 2006, where he deployed in support of Headquarters US Central Command, served as the Chief of Current Operations, and later as the Executive Officer to the Nineteenth Air Force Commander. In 2010, Col Monk became the Director of Operations and then Commander, 66 TRS, Fairchild AFB, WA, where he was responsible for the daily operations of the USAF Survival, Evasion, Resistance and Escape technical training program, the USAF Arctic and Parachute Water Survival Schools, and the Evasion and Conduct after Capture Training Program. In August 2013, he was assigned to Headquarters US Special Operations Command, MacDill AFB, FL, where he served as Chief of Emergent Force Requirements, Deputy Chief of the Commander's Action Group, and Strategic Planner. Col Monk graduated from the Air War College in 2017 before assuming his current position.
Col Monk is married to a fellow navigator, Lt Col Kimberly Monk. They have two children, Erin and Evan.
EDUCATION
1995 Bachelor of Science degree in Civil Engineering, United States Air Force Academy
2003 Squadron Officer's School, Maxwell Air Force Base
2006 Master of Business Administration in Military Management, Summa cum Laude, Touro University
2006 Air Command & Staff College, non-residence
2011 Air War College, non-residence
2017 Masters of Strategic Studies, Air War College, Maxwell Air Force Base
ASSIGNMENTS
Oct 1995 – Jan 1997, Joint Undergraduate Navigator Training, NAS Pensacola, FL/Randolph AFB, TX Jan 1997 – Jan 2000, Sq Training Officer/C-130E Instructor Navigator, 61 AS, Little Rock AFB, AR
Jan 2000 – Dec 2000, Group Tactics Officer/Instructor Navigator, 463 OG, Little Rock AFB, AR
Dec 2000 – Jan 2002, Chief Navigator Evaluator, C-130E, 61 AS, Little Rock AFB, AR
Jan 2002 – Jul 2005, Assistant Operations Officer/Evaluator Navigator, 15 SOS, Hurlburt Field, FL
Jul 2005 – Oct 2006, MC-130 Branch Chief/Group Evaluator Navigator, 16 OG, Hurlburt Field, FL
Oct 2006 – Jun 2010, Chief, Current Ops/ MC-130H SEFE/ Executive Officer, 19 AF, Randolph AFB, TX
Jul 2010 – Mar 2011, Director of Operations, 66 TRS, Fairchild AFB, WA
Mar 2011 – Mar 2013, Commander, 66 TRS, Fairchild AFB, WA
Mar 2013 – Aug 2013, Deputy Commander, 336 TRG, Fairchild AFB, WA
Aug 2013 – Dec 2014, Chief, Emergent Force Requirements, HQ USSOCOM, MacDill AFB, FL
Dec 2014 – Dec 2015, Deputy Chief, Commander's Action Group, HQ USSOCOM, MacDill AFB, FL
Jan 2015 – Jun 2016, Strategist, HQ USSOCOM, MacDill AFB, FL
Jun 2016 – May 2017, Student, Air War College, Maxwell AFB, AL
Jun 2017 – Present, Deputy Director NATO Centre of Excellence Defence Against Terrorism, Ankara, TR
FLIGHT INFORMATION
Rating: Master Navigator
Total Flight Hours: 3329/ Total Combat Hours: 489
Aircraft Flown: T-34C, T-43A, C-130E, C-130H, MC-130H, AN-26
COMBAT EXPERIENCE
Operations JOINT GUARD/JOINT FORGE/ ALLIED FORCE, 1997, 1999
Operation SOUTHERN WATCH, 1998, 1999, 2001
Operation ENDURING FREEDOM, 2002, 2005
Operation IRAQI FREEDOM, 2003, 2004, 2007
Columbia, 2003, 2004, 2006
Operation ENDURING FREEDOM-Philippines, 2007
MAJOR AWARDS AND DECORATIONS
Defense Meritorious Service Medal
Meritorious Service Medal with 2 oak leaf clusters
Joint Service Commendation Medal
Air Medal with 6 oak leaf clusters
Air Force Commendation Medal
Aerial Achievement Medal
Institute of Navigation Superior Achievement Award, 2004
USAF Outstanding Information Operations Officer of the Year, 2004
National Defense Industrial Association Special Achievement Award, 2005
Col Joseph B. Duckworth USAF Instrument Award, 2005
Verne Orr Award, Air Education and Training Command, 2013
EFFECTIVE DATES OF PROMOTION
Second Lieutenant, 31 May 1995
First Lieutenant, 31 May 1997
Captain, 31 May 1999
Major, 1 August 2005
Lieutenant Colonel, 1 July 2010
Colonel, 1 October 2016